The next episode of That Was a Show? is coming October 1st. Listen to this fun Radio Gizmo network promo to find out what it is!
Related Episodes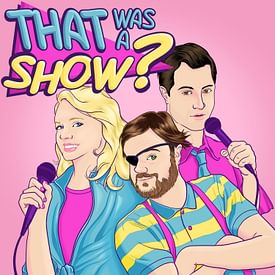 September 01, 2023
x
62
00:47:33
65.86 MB
On February 26, 1996 CBS pulled off quite possibly the greatest crossover marketing stunt in sitcom history with "Liz Night." Four different prime time shows featured an ongoing stunt plot with Elizabeth Taylor and a lost black pearl necklace that she needs to promote her new fragrance. The story kicked off with the first show in the lineup—The Nanny. Brynn and Aaron watch the episode and try not to lose the thread. They...
August 15, 2023
x
62
01:21:37
113.06 MB
The year was 1987 and comedies about multiple straight men raising children together and acting domestic was all the rage! That year saw the movie Three Men and a Baby, the start of Full House…but wait, there was one more lesser known show to hit the airwaves: My Two Dads! Starring Paul Reiser and Greg Evigan as the two dads, and Staci Keanan as the daughter who enters their lives by surprise at the age of 12. Her mother...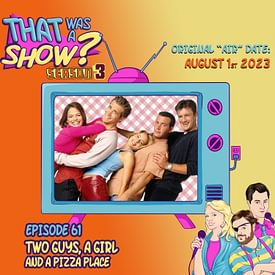 August 01, 2023
x
61
01:13:16
101.5 MB
Two Guys, a Girl and a Pizza Place was the 1998 sitcom about Gen-X career and relationship angst. It featured Ryan Reynolds as Berg (Guy 1), Richard Ruccolo as Pete (Guy 2) and Traylor Howard as Sharon (a Girl). They hang out at Beacon Street Pizza in Boston (a Pizza Place) where the Guys work. After season two, the pizza place is dropped from both the story world and the title, and it becomes Two Guys and a Girl—a title...